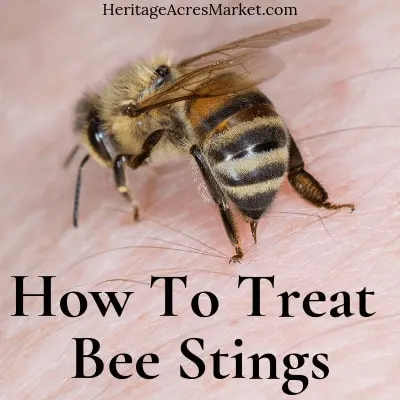 OUCH! YOU'VE JUST BEEN STUNG BY A BEE. WHAT SHOULD YOU DO NEXT?
Disclaimer: I am not a physician. The information provided on this website is for informational purposes only and should not be considered to be healthcare advice, medical diagnosis, treatment or prescribing of any kind. Information herein is not intended to be a substitute for professional medical advice, diagnosis, or treatment. Always seek the advice of your physician with any questions you may have regarding your medical condition(s).

If you think you are having a medical emergency or condition, call 911 or visit your emergency hospital immediately. Reliance on any information appearing on this website is entirely at your own risk. Full Disclaimer.
PIN THIS POST
REMOVE STINGER IMMEDIATELY
The first thing you should do is immediately remove the stinger. Attached to the stinger is a small venom sac which pumps venom into victims. To minimize the amount of venom you receive and reduce the sting reaction, quickly remove the stinger by any means necessary.
Many resources will say to remove the stinger with tweezers or by scraping it with a credit card, however these methods are ineffective. Within 20 seconds, the venom sac will inject 90% of its venom (1). Studies have shown that removal of the stinger by any means has a reduction in venom delivery. The previous thought process was that if one was to pinch the stinger and pull it out, the venom sac would be squeezed, releasing its contents. We now know that is not correct. Additionally, most would not be able to find tweezers or a card within 20 seconds to scrape the stinger out, and delays of more than 20 seconds will result in nearly full venom release.
WASH THE STING SITE
Washing the sting site with soap and water reduces the risk of infection.
REMOVE JEWELRY
All jewelry near the sting site, especially rings, should be removed right away before swelling starts.
If you didn't take a ring off in time and it starts to get too tight, your local fire department should be able to cut the ring off for you.
ELEVATE & ICE
Reduce swelling by elevating and icing the sting site. Ice will also help reduce pain.
Note: Mild redness and swelling at and around the sting site is completely normal. However, if you experience hives, mouth or tongue swelling, difficulty breathing, asthma like symptoms, chest or throat tightness, weak or rapid pulse, low blood pressure, nausea, vomiting, stomach cramps, or dizziness within 36 hours of being stung, call 911 or go to the emergency room immediately. These could be signs of a life threatening serious allergic reaction called anaphylaxis.
CONTROL PAIN
Acetaminophen or Ibuprofen can help reduce pain. Otherwise, the pain should subside within a few hours.
REDUCE ITCHING
Don't scratch! Even though stings itch, excessive scratching can break the skin and lead to infection.
Itching can be reduced with cortisone cream, an antihistamine cream, or calamine lotion. Benadryl will help, but will also make you very sleepy!
ALTERNATIVE TREATMENT
My favorite bee sting treatment is this plantain salve. I take it with me every time I work my hives, just in case.
Sources:
Schumacher, Michael J, et al. "Rate and Quantity of Delivery of Venom from Honeybee Stings ." The Journal of Allergy and Clinical Immunology, www.jacionline.org/article/0091-6749(94)90373-5/pdf.
PIN THIS POST