Looking for some books to get you through the winter? Are you a new beekeeper hungry for information? Or maybe you are looking for a gift for a beekeeper in your life?
We surveyed HUNDREDS of beekeepers through Facebook, and these were the most recommended beekeeping books in order of recommendation. I can assure you I have added nearly all of them to my collection as well.
Want more? Check out the list of Free Books for Beekeepers!
Beekeeping for Dummies
4th edition
Everything you need to "bee" a successful backyard beekeeper. If you've ever thought about becoming a backyard beekeeper—or have already tried a hand at it and want to be better one—then this is the book for you! In Beekeeping for Dummies, 4th Edition you'll find everything you need to know in order to start your own colony, including how to assemble and maintain beehives, handle every phase of honey production, purchase and use all the latest tools, and what to do beyond your first season.
The Backyard Beekeeper
4TH EDITION BY KIM FLOTTUM
The Backyard Beekeeper, now in its 4th edition, makes the time-honored and complex tradition of beekeeping an enjoyable and accessible backyard pastime that will appeal to urban and rural beekeepers of all skill levels.
The Beekeepers Handbook
4TH EDITION BY DIANA SAMMATARO & ALPHONSE AVITABILE
Since 1973, tens of thousands of first-time and experienced beekeepers alike have relied on The Beekeeper's Handbook as the best single-volume guide to the hobby and profession of beekeeping. This fourth edition has been thoroughly redesigned, expanded, updated, and revised to incorporate the latest information on Colony Collapse Disorder, green IPM methods, regional overwintering protocols, and procedures for handling bees and managing diseases and pests such as African honey bees and bee mites. The book explains not only how but also why each step is part of the transformative process that results in the magnificent creation of honey. This essential guide is a beekeeper's most valuable resource.
Honeybee Democracy
by Thomas D Seeley
Honeybees make decisions collectively–and democratically. Every year, faced with the life-or-death problem of choosing and traveling to a new home, honeybees stake everything on a process that includes collective fact-finding, vigorous debate, and consensus building. An impressive exploration of animal behavior, Honeybee Democracy shows that decision-making groups, whether honeybee or human, can be smarter than even the smartest individuals in them.
The Beekeepers Bible
by Richard Jones
The Beekeeper's Bible is as much an ultimate guide to the practical essentials of beekeeping as it is a beautiful almanac to be read from cover to cover. Part history book, part handbook, and part cookbook, this illustrated tome covers every facet of the ancient hobby of beekeeping, from how to manage hives safely to harvesting one's own honey, and ideas for how to use honey and beeswax.
The Practical Beekeeper: Beekeeping Naturally
by Michael Bush
This book is about how to keep bees in a natural and practical system where they do not require treatments for pests and diseases and only minimal interventions. It is also about simple practical beekeeping. It is about reducing your work. It is not a main-stream beekeeping book. Many of the concepts are contrary to "conventional" beekeeping.
The BBKA Guide to Beekeeping
2nd edition by Ivor Davis & Roger Cullum-Kenyon
The number of people interested and active in keeping bees at an amateur level has continued to increase over the past few years in both rural and urban situations. This guide, aimed at beginning beekeepers and the only one to be endorsed by the BBKA, provides an authoritative text along with clear photographs and illustrations.
Honey Bee Biology and Beekeeping
Dewey M. Caron & Lawrence John Connor
The standard beekeeping (apiculture) textbook used to teach college students and beekeepers the science and practice of bees and beekeeping. It concentrates on the 'why', 'how' and 'when' of beekeeping. It explains bee basics in a manner meaningful to people who lack an intensive background in biology. It does not oversimplify and provides a meaningful source of beekeeping information for the new and informed beekeeper.
The Queen Must Die: And Other Affairs of Bees and Men
by William Longgood
An engaging classic collection of observations about honeybees and their activities
Backyard Bees: A Guide for the Beginner Beekeeper
by Doug Purdie
Backyard Bees is the ultimate guide to installing and maintaining a hive of European honey bees. It includes extensive advice on choosing a hive and the equipment you need; case studies and anecdotes from beekeepers from all walks of life; as well as 20 delicious recipes for all that honey, from toasted honey granola to Bees Knees cocktails
Song of Increase: Listening to the Wisdom of Honeybees for Kinder Beekeeping and a Better World
by Jacqueline Freeman
The most joyful emanation produced by a colony of bees is known as the "song of increase"—declaring that the hive is flourishing and the bees are happy in its abundance. Song of Increase takes us inside the world of the honeybee to glean the wisdom of these fascinating creatures with whom humanity has shared a sacred bond for millennia.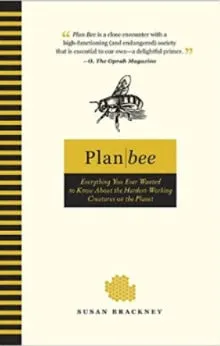 Plan Bee: Everything You Ever Wanted to Know About the Hardest-Working Creatures on the Planet
by Susan Brackney
Overtaxed and under-recognized now disappearing in alarming numbers- bees are the unsung heroes of the food chain, essential for the pollination of more than ninety of the crops we eat. The hardworking, humble, and matriarchal bee finally gets her due in this engaging and expertly written guide that will appeal to anyone who's ever been curious about the mysterious and always-buzzing world of bees.
Get the beekeepers calendar for free
You'll find 37 pages filled with detailed information to help you make this the best beekeeping season yet! Stay ahead of upcoming tasks and know what to look for with the guidance of A Years Journey In Beekeeping: The Beekeepers Calendar.
What's Inside
12 months of in depth information addressing key activities and objectives
A full 4 pages detail common pests and diseases, along with mitigation options
Additional Resources section lists more than 20 excellent resources for more beekeeping information
Plus, you'll obtain access to our Farmstead Google Calendar to help keep you on track
Download your free copy today! Simply fill out the form below and A Years Journey In Beekeeping: The Beekeepers Calendar will be sent right to your inbox.
Note: If you don't see the email in your inbox, please check your junk folder or search your mailbox for [email protected]