To book Nicole for a speaking engagement or interview, please send an email to Hello(at)heritageacresmarket(dot)com
Heritage Acres Market
Heritage Acres was started in 2016 by Nicole Gennetta. It is a simple 2-acre backyard hobby farm in Pueblo West, Colorado that Nicole runs with her husband, Patrick. Along with their variety of fowl, they have a quaint peach orchard, charming garden, several bee hives, and their Rottweiler, Honey. Read more about Heritage Acres Market on the About Us page.
Backyard Bounty Podcast
About the show
Backyard Bounty is a podcast that launched in April 2019 and is predominately interview-based, hosted by Nicole Gennetta.
Backyard Bounty aimed toward the many aspects of backyard and hobby gardening, including poultry, beekeeping, animal husbandry, sustainable/natural living, farm entrepreneurship, etc.
Guests include subject matter experts and university researchers.
The overall goal of Backyard Bounty is to educate, inspire, and connect with listeners.
Backyard Bounty is available on all major podcast players including iTunes, Stitcher, Spotify, Pandora, Amazon Alexa, iHeart Radio, YouTube, and more.
Listeners & Statistics
Our largest listener audience is an even mix of men and women aged 23-34 in the United States listening on Apple Podcasts.
Per Chartable, Backyard Bounty's average 30-day downloads are approximately 5000-6000. We maintain Top 50 in Apple Podcast Home & Garden category.
While Backyard Bounty does not contain profanity, there are some episodes that discuss farm to table livestock, including harvesting and butchering animals. As such, parents may wish to preview the material before allowing children to listen.
Reviews
Valuable Information and Fun!
I love this podcast. I discovered it after Nicole was a guest on another Heritage Radio podcast (Farm Report). Nicole provides information on a variety of topics all relevant to those of us trying to work land that we have in our neighborhoods. Keep up the great work Nicole!!!! Update: I really think Nicole has become one of the best sustainability and smallholding podcasters out there. She brings to listeners a broad spectrum of information from guests who are experts in their fields. Her questions are insightful and always add to the conversation.
Meanbear via Apple Podcasts ·United States of America, 11/22/2020
A lot to love, for anybody
You can tell that Nicole is passionate in her pursuit of educating the masses on the many facets of homesteading life. Whether you are growing herbs in your windowsill or have a full-on organic farm in the foothills of the Midwest, there is an eclectic mix of information available here.
Great topics
Great diversity of topics- not just the usual homesteading topics. Loved the episode on bats.
KCPlantgirl via Apple Podcasts ·United States of America ·12/18/2020
Podcast Cover Art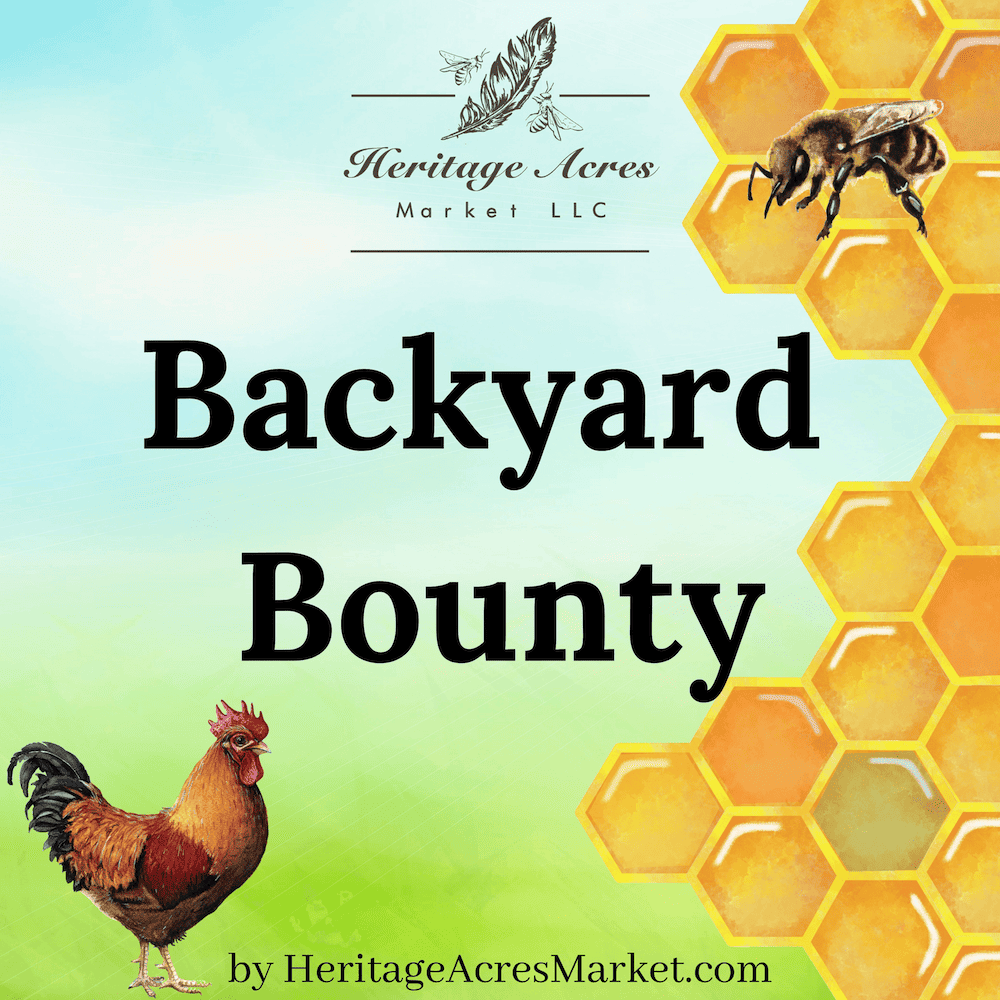 People
Nicole's Bio
Nicole is the founder of HeritageAcresMarket.com and the Backyard Bounty Podcast. She lives in Pueblo West, Colorado on a 2-acre hobby farm with her husband Patrick.
Nicole has had chickens for the majority of her life. She currently has chickens, guinea fowl, turkeys, ducks, pheasants, quail, and pigeons.
Heritage Acres is also home to a quaint peach orchard, charming garden, several beehives, and their rottweiler, Honey.
Nicole holds a Master Beekeeper certification from Cornell University and is a certified Colorado Master Gardener. She has three Associates Degrees and works for the local Community College. Nicole is very passionate about learning!
After serving her community for nearly 9 years as a firefighter/paramedic, Nicole medically retired from the Fire Department in 2019 following an on the job injury.
When not working the farm, she enjoys creating new content for the Heritage Acres Market blog and recording new episodes of the Backyard Bounty podcast.
More information on Heritage Acres is on our About Us page, or read Nicole's complete biography here.
Products
While Heritage Acres offers a few items in their shop, their signature item is the Columbus Aqua chicken nipple waterer.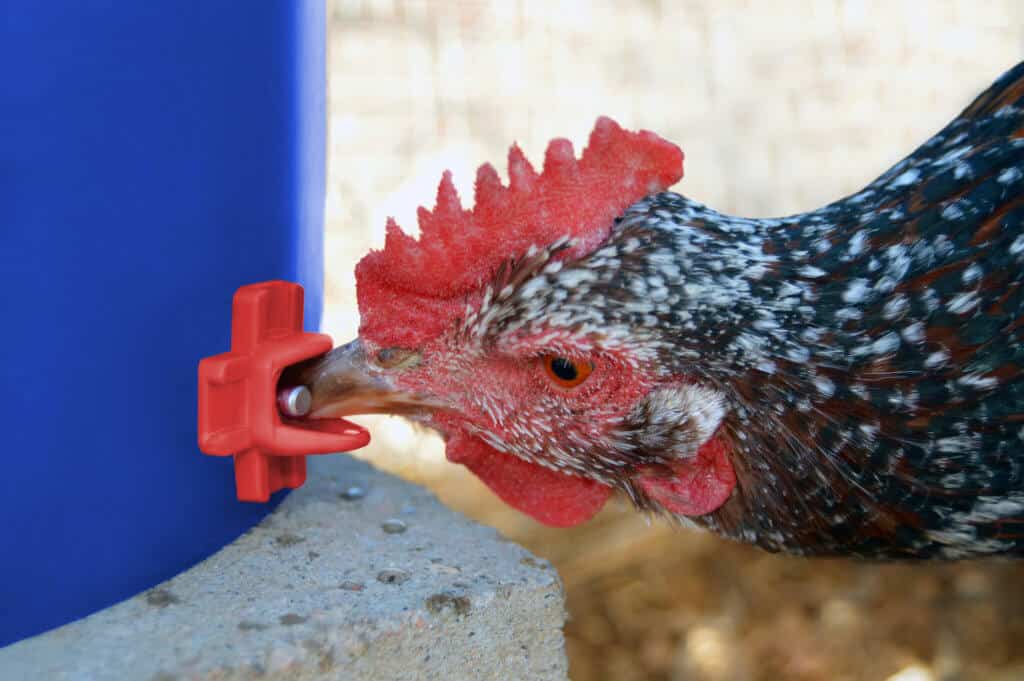 Heritage Acres Market is proud to be the only US distributor of the Columbus Aqua poultry watering nipple. These nipples are the ideal waterer for chickens, turkeys, quail, and most all other backyard poultry.
Columbus Aqua poultry nipples are the original horizontal nipple and made in Europe, while all other side mount poultry nipples are made in China.
Join our affiliate program here.
Speaking Engagements
Southern Colorado Sustainability Expo, October 2019
Summits
Consciously Creating Your 2021
Interviews
Published Work
Plants for Pollinators, From The Ground Up: A Gardening and Native Plants Quarterly, Volume 9, Issue 1, Spring 2018
Bees by the River, Nature & Wildlife Discovery Center Nature Journal, Summer 2018
What kind of sugar should I feed my bees?, KeepingBackyardBees.com, October 2018
End Of Season Review, KeepingBackyardBees.com, November 2018
10 Quick tips for new beekeepers, KeepingBackyardBees.com, April 2019
Backyard Poultry Health Guide: Diagnosis & Treatment eBook (link)
Press Coverage & Features
2017, Pueblo Pulp, Pueblo's Business Bees
2017, Pueblo Chieftain, Pueblo West beekeeper introduces host-a-hive program
2019, A pest-eating machine By Bill Radford, The New Falcon Herald
2019, Nature doesn't stop for nothin' By Bill Radford, The New Falcon Herald
2019, This adorable snoring chicken named Chim won the internet, but can chickens really snore?, Insider.com
2020, Should I Get Chickens? Pros, Cons and a To-Do Checklist for Hobby Farmers?, HomeAdvisor.com
Press Releases
July 20, 2017- First Farm In Pueblo County, Co, Awarded Top Environmental And Animal Welfare Certification (pdf)
Social Media
Logos
Please click the image for full size logo.

Additional Photos
Please click the image for full size photo.