Disclaimer: This website contains affiliate links, from which Heritage Acres Market LLC may receive a small commission from the vendor on the sales of certain items at no cost to you. Please read our full disclosure for more information. Thank you for supporting Heritage Acres Market LLC!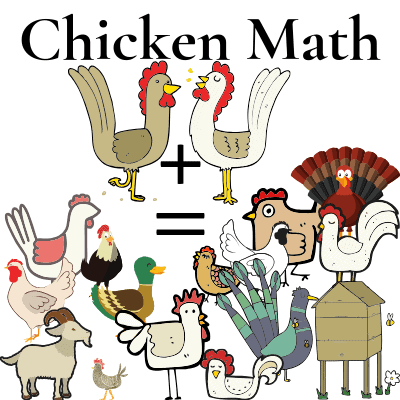 WHAT IS CHICKEN MATH?
Chicken math is the bizarre and unexplained phenomena of chicken multiplication. It starts with a modest coop and a few hens. In the beginning, chickens appear in droves, and no one knows where they came from.
The influx in chickens is shortly followed by the spontaneous generation of other fowl- ducks, peafowl, guinea fowl, turkey, etc.
In severe cases of chicken math, mysterious arrivals of goats and beehives develop.
Once contracted, there is no cure for chicken math.
To see how you may be impacted by chicken math, please utilize the Chicken Math Calculator below
Be sure to share this on social media to alert your friend and family of the inevitable!
PIN THIS POST