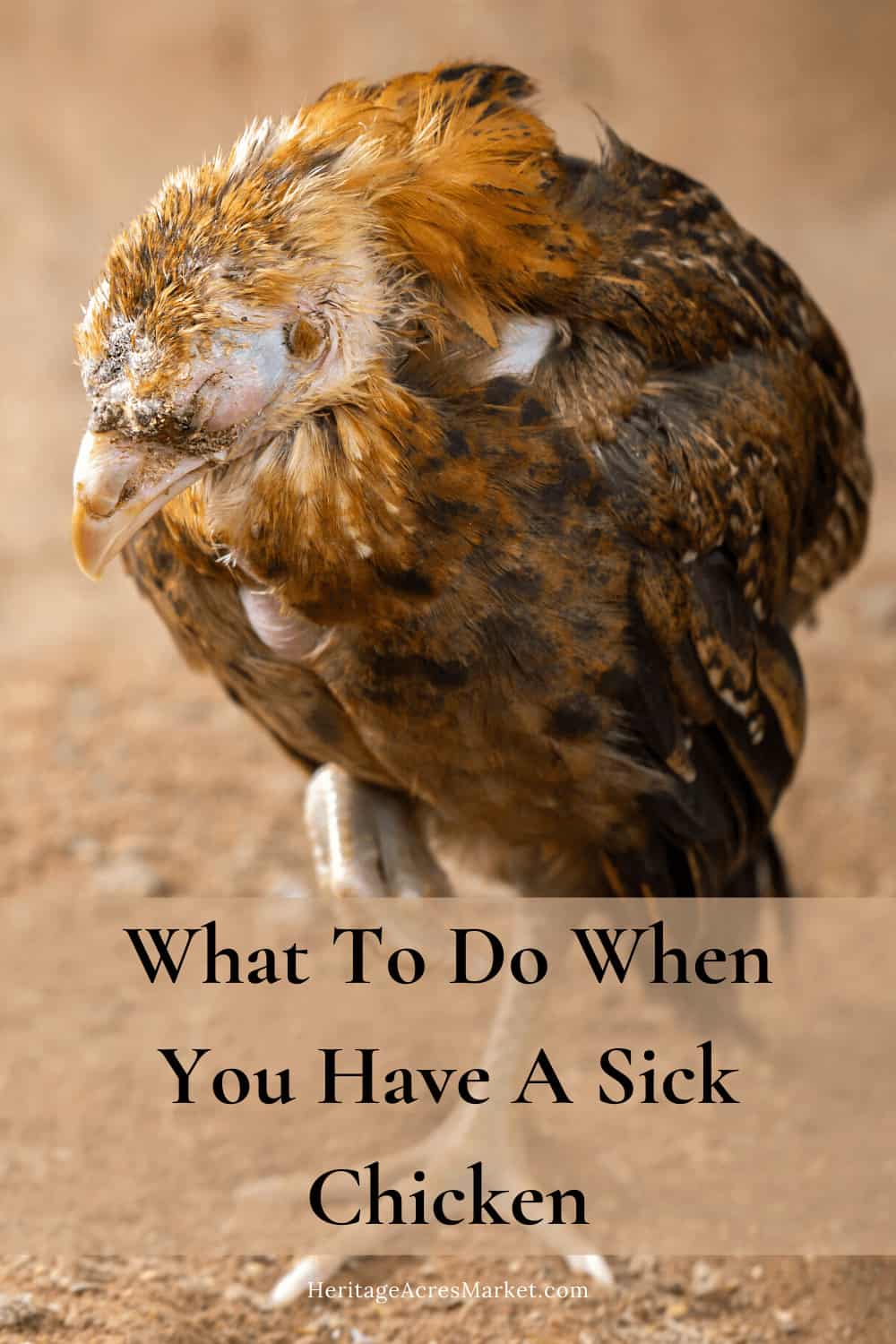 "HELP! I have a sick chicken, and I don't know what to do!"
Believe me, I have been there. Many times. Even though I have had chickens for most of my life, I definitely have not seen it all, and am always surprised by something new.
With the increase in chicken ownership, I have also seen an increase in these desperate cries for help. So I combined my paramedic self and my love for chickens to create this post to help you diagnose a sick chicken.
This post is intended specifically for a sick or ill bird. I won't be covering traumatic injuries or minor ailments here.
Obligatory disclaimer: I am not a veterinarian. Information in this post was cumulated from veterinary manuals listed in the "sources" section below. Please contact your veterinarian before administering medications to your birds.
PIN THIS
Collect Yourself
The first time you have a sick chicken, chances are you'll be upset. It may be difficult, but take a moment to pause and collect yourself. No one wants their Henrietta to be ill, and it can be stressful. Try to remain calm as you go through the process of diagnosing the problem.
What To Do First
The very first thing you absolutely must do when discovering one of your chickens is sick is to isolate it from the flock. While not all illnesses are contagious, it is best to separate the bird from the flock.
I keep an extra dog kennel that I can set up in the garage. If you don't have one, a large box or a bathtub are viable options.
Keep the bird warm and quiet. A cold garage or loud living room can add stress to an already compromised chicken.
Also give the bird water with electrolytes and probiotics and either scrambled egg or tofu. Regardless of the illness these will both help support the healing process.
DO NOT give any medications until you have read through this post.
I see so many people immediately give their sick chicken Corid and VetRx without knowing what is wrong with their bird. It's better to wait to give them anything until you have a better idea of what is wrong.
Gather Basic Information
Next, gather some basic information that will be used to help dignose what is wrong with your bird. It may be helpful to grab a pen and a piece of paper to keep notes.
Is the bird a new member of the flock or an existing member?
Have you added any new birds in the last 3 months?

If so, were they quarantined?

Have you visited anyone else's flock?
How old is the bird?
What breed is it?
Are other birds experiencing similar symptoms?
Have you moved the birds to a new location?
Have you changed their food?
Have they been given any recent medication or supplements?
Is anything else new or different within the last 3 months?
Observation
Start by observing the bird in its isolation pen. Grab your pen and paper and just watch the bird for a few minutes. You don't need to poke or prod just yet.
As you go through this list, note what you see and what you don't. For example, "chicken is alert and not drowsy". Knowing what isn't a concern is as helpful as knowing what is.
Also, focus on collecting as much information as you can now. Don't get tunnel vision. You may have originally noticed that your bird sneezed and that is why you are concerned. But give it a full thorough check to look for any other symptoms and rule out other problems. You can also use ALL of this information as you work to figure out what is wrong.
Take note of the following:
Is the bird alert to its surroundings, or seem drowsy and unengaged?
Is the bird standing, unable to stand, or too weak?
Are the feathers flat or ruffled?
Is the waddle and comb normal colored (pink or red), or is it pale?
Is the chicken breathing normally, struggling to breathe, gasping, or make a rattling noise when breathing?
Is the chicken sneezing or coughing?
What does the poop look like? Is it normal, diarrhea, pink or red, foamy, or green?
Is the bird twitching, shaking or convulsing?
Does anything look unusual or different?
Hands On Exam
Once you have finished your observation, it is time for a hands on exam. Ask a family member or friend for help if you need.
Start from the chickens head and work all the way to the feet. Check the skin under the feathers, under the wings, and inside the mouth. Look for any injuries, mites or lice, or anything unusual.
If you are not sure what to look for, my Backyard Poultry Health Guide eBook has a full head to toe exam checklist.
BACKYARD POULTRY HEALTH GUIDE: DIAGNOSIS & TREATMENT EBOOK
Be sure to pick up our eBook Backyard Poultry Health Guide: Diagnosis & Treatment eBook for more great information on raising chickens!
Possible Illnesses
I categorize illnesses as either respiratory, parasites, environmental, internal, or other.
Respiratory
Respiratory illnesses are common in sick chickens, and can be fungal, bacterial, or viral. I will cover treatments in a later section.
While your chicken may be having labored breathing, there are things other than a respiratory illness that could cause it. Using the chart below will offer some other possibilities.
Common respiratory illnesses include:
Infectious Laryngotracheitis
Mycoplasma Gallisepticum
Aspergillosis
Infectious Coryza
Infectious Bronchitis Virus
Avian Influenza
Mycoplasma synoviae
Newcastle Disease
Parasites
Parasites can be either ENDOparasites (lives inside the chicken, like worms) or ECTOparasites (lives on the outside of the chicken, like feather lice).
Common parasites that can lead to a sick chicken include:
Trichomonosis
Cryptosporidium
Coccidiosis
Hexamitiasis
Bedbugs
Sticktight Flea
Chicken Flea
Flies
Lice
Mites
Tapeworm
Roundworm
Gapeworm
Cecal worm
Environmental
If a chicken gets too hot or too cold, it can cause things like heat stress or hypothermia.
Internal
Internal illnesses are things like heart problems, neurological issues and cancer. Also in this category is things that impact the gut and reproductive tract.
Examples include:
Enterococcus
Thrush
E. Coli
Fatty Liver Hemorrhagic Syndrome
Fowl Cholera
Cancer
Marek's disease
Other
Other is the catchall for everything else- poisoning, vitamin deficiencies, genetic abnormalities, that kind of thing.
This sick chicken catchall includes:
Botulism
Fowlpox
Toxin/poisoning
Vitamin deficiency
Rickets
Diagnosis Chart
Now that you have a full list of symptoms from your observation and hands on exam, use your findings with the chart below to try and decide what is wrong with your sick chicken.
Check all the symptoms that you wrote down and see if you find any repeat matches in the "Possible Causes" column.
Please understand that there are many possible illnesses that can impact chickens, however, in this chart I tried to narrow it down to only the most common illnesses and symptoms. Use this as guidance as you look for answers.
Symptom
Possible Causes
Abdomen- Swollen
Ascites
Breathing- Gasping
Gapeworm
Trichomonosis
Cryptosporidium
Newcastle Disease
Infectious Laryngotracheitis
Adjusting Crop- normal
Something Physically Stuck?
Breathing- Labored/Difficulty
Botulism
Trichomonosis
Mycoplasma Gallisepticum
Aspergillosis
Infectious Laryngotracheitis
E. Coli
Breathing- Nasal Discharge
Infectious Coryza
Mycoplasma Gallisepticum
Infectious Bronchitis Virus
Infectious Laryngotracheitis
Avian Influenza
Breathing- Panting
Heat Stress
Trichomonosis
Fowl Cholera
Aspergillosis
Breathing- Rattle (Wet) Breathing
Cryptosporidium
Mycoplasma Gallisepticum
Mycoplasma Synoviae
Newcastle Disease
Infectious Laryngotracheitis
Breathing- Sneezing
Mycoplasma Gallisepticum
Newcastle Disease
Infectious Coryza
Could Be Normal
Breathing- Bloody Mucous
Infectious Laryngotracheitis
Breathing- Cough
Mycoplasma Gallisepticum
Newcastle Disease
Infectious Laryngotracheitis
Avian Influenza
Cryptosporidium
Comb- Pale
Endoparasites
Heat Stress
Anemia
Heart Failure
Fatty Liver Hemorrhagic Syndrome
Mycoplasma Synoviae
Cancer
Ectoparasites
Comb- Scabs
Injury
Frostbite
Fowlpox
Ectoparasites
Convulsions
Toxin/Poison
Seizure
Crop- Hanging
Pendulous Crop
Crop- Swollen
Thrush (Sour Crop)
Just ate
Death
Coccidiosis
Cryptosporidium
Trichomonosis
E. Coli
Enterococcus
Fatty Liver Hemorrhagic Syndrome
Fowl Cholera
Cancer
Toxin/Poison
Ectoparasites
Endoparasites
Avian Influenza
Decreased Egg Production
Heat Stress
Endoparasites
Coccidiosis
Enterococcus
Cancer
Ectoparasites
Infectious Bronchitis Virus
Avian Influenza
Difficulty Walking
Fowl Cholera
Marek's
Toxin/Poison
Eye- Blindness
Trichomonosis
Ammonia Poisoning
Ectoparasites
Eye- Pupils (irregular)
Marek's
Traumatic injury
Eye- Swollen
Infectious Coryza
Respiratory Infection
Eye- Discharge
Trichomonosis
Fowl Cholera
Mycoplasma Gallisepticum
Infectious Coryza
Infectious Laryngotracheitis
Avian Influenza
Head Shaking
Newcastle Disease
Infectious Coryza
Mycoplasma Gallisepticum
Mycoplasma Synoviae
Lethargy/Weakness/Tiredness
Endoparasites
Heat Stress
Anemia
Thrush
Coccidiosis
Hexamitiasis
Trichomonosis
Enterococcus
Cancer
Mouth- Discharge
Fowl Cholera
Mouth- Lesions
Fowlpox (wet)
Toxin/Poison
Mouth- White Growth
Thrush
Mouth- Yellow Growth
Trichomonosis
Paralysis- Leg
Marek's
Botulism
Newcastle Disease
Paralysis- General
Enterococcus
Newcastle Disease
Ectoparasites
Avian Influenza
Vitamin E Deficiency
Paralysis- Neck
Botulism
Neurological
Marek's
Paralysis- Wing
Botulism
Newcastle Disease
Marek's
Poop- Diarrhea
Heat Stress
Endoparasites
Coccidiosisdosis
Cryptosporidium
Botulism
Cryptosporidium
Hexamitiasis
Enterococcus
Fowl Cholera
Toxin/Poison
Newcastle Disease
Avian Influenza
Poop- Green
Poop- Bloody
Coccidiosis
Shed Intestinal Lining
Ate Red Food (ie Tomato)
Ruffled Feathers
Botulism
Enterococcus
Fowl Cholera
Coccidiosis
Stargazing/Wry Neck
Fowl Cholera
Vitamin Deficiency
Neurological
Genetic
Poisoning
Newcastle Disease
Swelling- Face/Waddles
Infectious Coryza
Fowl Cholera
Avian Influenza
Swelling- Hocks
Mycoplasma Synoviae
Rickets
Twitching/Tremors
Neuro
Seizure
Hexamitiasis
Toxin/Poison
Newcastle Disease
Vitamin E Deficiency
Unable To Stand
Marek's
Weakness From Illness
Botulism
Mycoplasma Synoviae
Rickets
Vitamin E Deficiency
Vent- Poop On Feathers
Vent Gleet
Weight Loss
Marek's
Endoparasites
Anemia
Coccidiosis
Trichomonosis
Hexamitiasis
Fowl Cholera
Cancer
Ectoparasites
HeritageAcresMarket.com
Treatments
Respiratory Illness
If you have determined that your sick chicken has a respiratory illness, consider using this Zoologix.com service to get a specific diagnosis or contact your veterinarian.
Respiratory illnesses can be either fungal, viral or bacterial. Fungal and bacterial illnesses can be treated with medications, but viral cannot. Because all of the respiratory illnesses are very difficult to tell apart without an official diagnosis, it can be challenging to pick the correct medication.
NOTE: MEDICATIONS LISTED HERE ARE OFF LABEL FOR USE IN POULTRY. PLEASE READ MORE ABOUT THEM AND USE AT YOUR DISCRETION.
Baytril
Baytril treats a larger range of respiratory illnesses (but does not treat all of them), so this is where most people start. Baytril is off label for use in poultry.
Tylan
If you do not have Baytril available, it does not treat the illness, or you chose not to use it, the next medication to try would be Tylan. Tylan is a common treatment for respiratory illness and often available at the local farm store.
LA-200
Lastly, the final choice would be LA-200, however, it can cause injection site necrosis.
VetRx
VetRx is to chickens what Vick's is to humans. While you can use it to help your sick chicken feel better, it will not treat respiratory illness.
For information on treating additional illnesses, please consider my Backyard Poultry Health Guide eBook which covers treatment options in detail.
Testing
For a definitive diagnosis, you will need to consult a veterinarian. There are many folks, myself included, that does not have a vet that will treat chickens, which makes treating chickens a little more difficult.
An alternative would be to use a service such as this one offered by Zoologix.com, where you can send in a swab to be tested.
Necropsy
If your sick chicken dies and you did not receive a diagnosis from your veterinarian, I would highly recommend sending the body off for a necropsy. If additional chickens should fall ill, you can use the information from the necropsy to treat other chickens. Find your local necropsy lab here.
Resources
If you would like additional information about your sick chicken, please consider the links below.
Unfortunately I am not able to personally respond to emails regarding sick chickens, so please do not send any questions by email.
I would like to offer an alternative. My Hens & Hives Facebook group is a good place to share your pictures and questions and I will do my best to answer them. Join Hens & Hives here.
PIN THIS