With the surging popularity of sourdough these days, I wanted to share with you my FAVORITE sourdough recipe ever- sourdough pancakes!
Yes, of course you can make bread from sourdough starter but that is only the tip of the iceberg. Did you know you can make crackers, pretzels, biscuits, muffins, pizza dough, cake and so much more?!
My favorite thing to make is sourdough pancakes- yum! Every Saturday night I pull the starter out of the fridge put it on the counter to warm up. Then on Sunday morning I feed it, first removing some starter as a discard. It is this starter discard that I use to make delicious sourdough pancakes.
Trial And Error
I have certainly made some mistakes along the way, not all of which have been terrible.
Forgetting To Get Starter Out Of Fridge
When the starter cools in the fridge, it goes dormant. Since I don't use it every day this is the best method for me. The yeast reactivates at room temperature. I set the starter out on Saturday evening as I want the yeast to "wake up", and it is ready to use Sunday morning. I don't feed it Saturday night since it's still dormant.
While you can use cold starter if you must, the pancakes won't rise well and will be much more sour.
Forgetting The Baking Soda
On one occasion I forgot the baking soda, but I was not unhappy with the results! Instead of light and fluffy pancakes, they turned out flat and doughy like crepes. So, if you want to make crepes, just omit the baking soda and you'll be good to go.
Not Adding Water Or Milk
The 2-4 Tbsp of water or milk is to thin the pancakes to your desired consistency. I found that not adding the water makes a thick, chewy, hearty pancake that I do enjoy on occasion. But if you are looking for something like traditional pancakes, then be sure to thin the batter.
Maple Syrup And Cinnamon
The maple syrup and cinnamon work to offset the sour flavor of the sourdough. While I don't mind it, my husband can't stand when they are remotely tangy. If you are more sensitive to the flavor like he is, you may want to add up to 3 Tbsp of maple syrup. Or just put more maple syrup on the finished product.
Sourdough Pancakes
Below is the recipe I use every Sunday. Feel free to adapt it to suit your needs!
For sweeter pancakes add more maple syrup, honey or sugar (up to 3 tbsp total), or more cinnamon
For chewy, hearty pancakes, use less water or milk
To make crepes, omit the baking soda and thin batter with water or milk
One last note– the pancakes freeze very well! I like to make extra to keep in the freezer. Once the pancakes are cooled, place them in a gallon sized ziplock freezer bag with parchment paper in between them and toss it in the freezer. To reheat, loosely wrap individual pancakes in a moist (slightly damp, but not wet) paper towel and microwave 30 seconds at a time until thawed.
Yield: 6 pancakes
Delicious Sourdough Pancakes Or Crepes From Starter Discard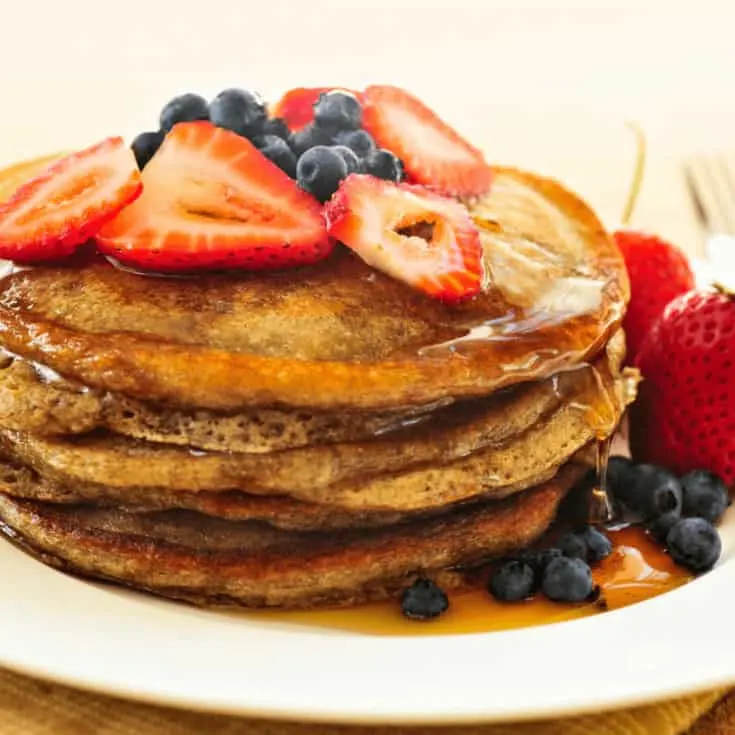 These are Nicole's "famous" Sunday Morning Pancakes that she prepares for her family every weekend. Enjoy!
Ingredients
2 cups sourdough starter discard
1 egg
1 Tbsp maple syrup, honey or sugar
2 Tbsp oil
1 tsp baking soda
2-4 Tbsp milk or water
1 tsp ground cinnamon (optional)
Butter or oil for cooking
Instructions
Preheat griddle on medium heat
Mix together the sourdough starter, egg, maple syrup, oil and baking soda
Add milk or water to thin to desired consistency. Start with 1 Tbsp and as more as needed.
Melt butter or spray griddle with cooking spray. Pour batter onto heated griddle.
Cook pancakes until golden brown, flip and cook the other side
Notes
Pancakes save well in the fridge or freezer to be enjoyed later!
Nutrition Information:
Yield:
2
Serving Size:
1
Amount Per Serving:
Calories:

804
Total Fat:

32g
Saturated Fat:

7g
Trans Fat:

0g
Unsaturated Fat:

23g
Cholesterol:

113mg
Sodium:

753mg
Carbohydrates:

112g
Fiber:

9g
Sugar:

20g
Protein:

20g