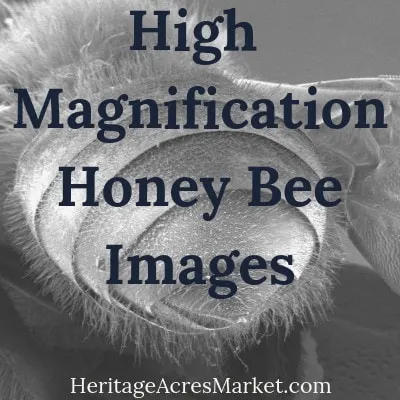 Have you ever wondered what honey bees look like up close? Wonder no more!
We submitted deceased bees for a high tech photo shoot with a scanning electron microscope (SEM). Scanning electron microscopes work by coating the specimen (in this case the honey bee) with an ultra thin layer of gold. Once coated, excited electrons are bounced off the specimen which are detected by the microscope and translated into an image. SEM images are always black and white, as electrons have no color spectrum. This imaging technique allows for high magnification with high resolution.
Also see our varroa mite SEM photo gallery here!
Honey Bee Head 12x
Honey Bee Thorax 12x
Honey Bee Thorax 12x
Honey Bee Stinger 75x
Honey Bee Stinger 500x
Honey Bee Head
Honey Bee Head
Honey Bee Compound Eye 65x
Honey Bee Compound Eye 150x
Honey Bee Compound Eye 500x
Honey Bee Compound Eye 5000x
Honey Bee Body 15x
Honey Bee Body and Wing
Honey Bee Wing 12x
Honey Bee Wing 25x
Honey Bee Wing & hamuli 50x
Honey Bee Wing 50x
Honey Bee Wing 150x
Honey Bee Wing 150x
Honey Bee Wing hamuli 150x
Honey Bee Wing hamuli 500x
Honey Bee Wing 430x
Honey Bee Wing 500x
Honey Bee Wing 500x
Honey Bee Wing 1500x
Honey Bee #2 Head
Honey Bee #2 Head
Honey Bee #2 Tongue
Honey Bee #2 Tongue
Honey Bee #2 Tongue
Honey Bee Stinger Tip 200x
Honey Bee Stinger Tip 200x
Honey Bee Stinger 270x
Honey Bee Stinger Tip 700x
Honey Bee Stinger Tip 1500x
Honey Bee Stinger Tip 2000x
Honey Bee Stinger #2 45x
Honey Bee Stinger #2 75x
Honey Bee Stinger #2 75x
Honey Bee Stinger Barbs 150x
Honey Bee Stinger Barbs 500x
Honey Bee Stinger Barbs 500x
Honey Bee Stinger Barbs 650x
Honey Bee Stinger Barbs 650x
Honey Bee Stinger Barbs & Hollow Tip 650x
Honey Bee Stinger Barbs 1000x